Greetings, whoever-reads-this! It's the middle of the day in the middle of the week. I don't know if that signifies anything, but it's where I'm at for the moment.
I just finished the first of what hopes to be two exercise sessions for the week. Standard stuff like push-ups and leg lifts. Takes about 40-45 minutes, with about an hour of fatigue and self-pity to follow. Not a lot of fun, but necessary- especially as you start to get some miles on you.
Music stuff. Still at it .Here  is where you can listen to a variety of albums, some of them even with other folks on there. And styles from straight-ahead jazz to fusion to even some weirdo classical music. 
Elsewhere in Cyberland, my YouTube page is still growing, and is now up to a whopping 166 subscribers. Woo hoo! I doubt that it'll ever get up to a thousand(at which point, I believe, they start paying you), but I enjoy every increase, no matter how modest. And I get some nice comments from time to time. 
Originally, I wanted to put up videos from gigs, but it's worked out more as practice sessions with playalongs. There are a few gig videos, and a few guitar/bass duos, but it's mostly just me and a virtual rhythm section. Then again, as far as rectifying the situation, there's always that next gig...
Remembering something from High School Jazz Band that applies here. Mr Garretson told us that ÿou can play your ass off here in the Band Room, but when you end up playing in front of an audience, you're gonna be at 80% of your capacity." That remaining 20% is sown up in nerves and uncertainty. 
As you get some experience as a musician, that 20% whittles down to nothing. You end up conquering the nerves and uncertainty--at least for the most part. But I gotta say, there's still some truth there. Maybe that's why my jam tapes seem to work here, at least the ones that survive. No pressure here in the Music Lab..
Anyway. A few random thoughts. And that's about all I can come up with to share at the moment. Thanks as ever for stopping in and reading. Happy Wednesday to you! I'm outa here. Later.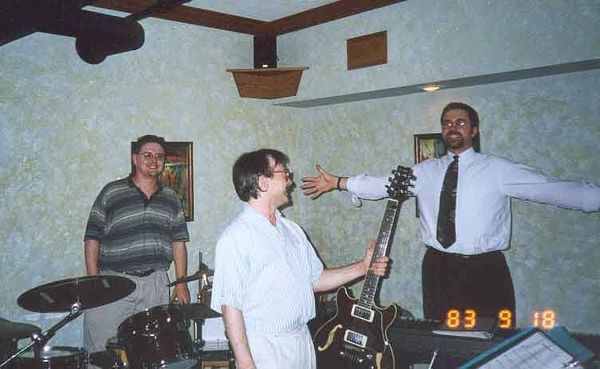 PS today's pic was taken at Sebastian's on 5th st in Springfield, year unknown. Jeff Magby, me, Tim Green. What a gig!
PPS I didn't know Sam Draper, but we were Facebook friends, and he seemed to be a great guy. To those who did know him, sorry for your loss.