Good morning! 9:27 and 60 degrees at the moment. Looks like a beautiful day.
I'm welcoming the Fall. Cooler temps make it easier to work here in the Music Lab. We've had months of muggy weather, where I couldn't do much. It's always about 20 degrees warmer up here , heat rising and all that. 
Music news. Well, the top story is still my new album. Souvenirs. The link here will take you to a YouTube page CD Baby set up for me. They used to give you a website for each of your albums, but now they send all your stuff to YouTube. So you can stream all the songs from there.
In other news, I've got a couple solo guitar things coming up next week, on Wednesday and Saturday. They're both short gigs, just enough to get me out of the house. A modicum of structure in a blissfully unstructured life. And I might just have some fun in the bargain..
I've got a whole 'nother album more or less ready to go. Some remixing and re-arranging remain, as well as what the hell to call it. This will make 50 albums that I've done through CD Baby. The only positive thing to come out of the Pandemic was all these albums..
After this, I want to do another solo guitar album. And this time, I'll be working with someone else. Another guitar player, who apparently has a pretty nice home studio- much more high-tech than mine. And it's someone I've been friends with since High School, so it's about time we did this. 
And that's my news for the moment. Thanks as ever for stopping in and reading. Happy Tuesday to you! And with that, ich bin outa here. More later.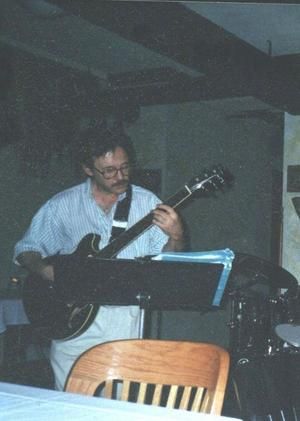 PS today's pic was taken at Sebastian's on 5th. Working with Tim Green on piano and Jeff Magby on drums. I think this was back in the 90s.