Good morning! 9:48 and 69 degrees at the moment. A nice slothful week comes to an end. Stuff to do today. And two engagements next week. Wednesday and Saturday, both solo guitar. They're both private affairs, so unfortunately I can't invite you. 
The Man, the Music. I just made 87 cents from what people have streamed on Spotify. I've got a sort of Chump Change Account on CD Baby was far as this goes. When it reaches 50 bucks, they pay me. Not getting rich from these dividends, but it's nice to see what people are listening to--and the fact that they are listening. 
I've hit a nice plateau with the guitar, where most everything I'm trying is working. This encourages me to play more, and to make more jam tapes to put up on YouTube. Still picking up new subscribers, and am now up to a whopping 169 folks!
It's getting more interactive as well, with some nice comments. This is a good thing. I always write back, maybe with a comment of my own. Even though I don't get out all that much these days. I'm still playing for an audience.
This will take you to another YouTube page of mine, with many of my albums. Some are solo projects, and some have a variety of folks on them. Styles vary, from straight-ahead jazz to fusion to more eclectic weirdo stuff. 
Well that's all I've got for you for now. Thanks as ever for stopping in and reading. Happy Friday to you! For now, I'm outa here. Lumosity and Wordle are beckoning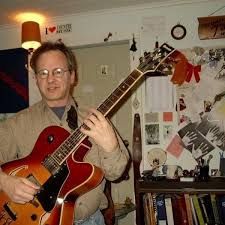 . Later for now. 
PS today's pic was taken in Michael Taylor's studio in Pawnee, year unknown. He's helped me with all sorts of recording projects, over the years and even did two of my albums: Solo Jazz Guitar, and Spring into Swing