Good morning Vietnam! It's 8:57 and 45--feels like 37--degrees on this day before Thanksgiving. I've already dug out the thermal dermis, which I'll be wearing until sometime in March. Different pairs of course. The furnace has new filters, which should be good for the Season. And I have space heaters which have been in place since last Winter. I'm as ready as I'm gonna be..
Music News. I have a few new things up on YouTube you might enjoy. Normally I rotate between the red Epiphone guitar and the yellow Takamine, but I've also got a nice arctic white Telecaster I'm pretty fond of. An old Mexican Fender Tele. Had it since 2007.  So the white guitar is added to the rotation. 
Telecasters are  versatile instruments. You can play jazz on them, but also blues and country and rock. For a good five years in there, I played in the Dan Rivero Trio. Organ, guitar and drums. It was an R & B group, but the keyboardist had some jazz in him, so we could lean in that direction when need be. And the guitar sounded good on everything we played. 
I could've lived without Margaritaville though. Never could stand that tune...But I did have a great time with Dan and Wayne for those years.
At this point, I'm pretty settled into working from home. I have gotten out and visited a few folks over this last month, and played guitar in their homes, so I'm not a total hermit... But I'm having a good time here in the Lab. This is working, at least for now. 
So there will always be something new either on my site or on YouTube or both. I still need to communicate in this way regardless of whether I leave the house to do it. Music is meant to be shared..
Well thanks once again, for stopping in and wading through all this stuff. Happy Hump Day, or pre-Thanksgiving. Looking forward to tomorrow's gathering. For now, je suis outa here. More later.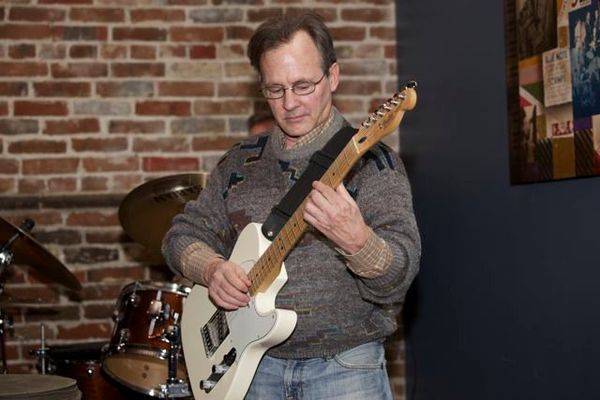 PS Today's tune is a thing I wrote called Boot Scoot. It's the same changes as the standard Lover Come Back to Me, only the melody is retrograded--bass-ackwards. It's on my album Tele-ology, which is straight-ahead jazz(and some other stuff)played on a Fender Telecaster guitar.