Good morning! It's 8:36 and 68 degrees from where I'm sitting. Not exactly the lap of luxury here, but at least it's quiet. Some birds chirping and the distant sound of a train. Soon we'll have the sound of yapping as the dogs get out. Five miniature pooches. I never remember their names except for Weezy. She's my buddy-once she recognizes me.
You might be a redneck if the last words your wife said to you were "it's me or them dogs". 
The man, the music. I spent last night  on YouTube listening to a couple fantastic guitarists. Lage Lund and Mike Moreno. They're both part of the New York scene. Stoopid facility on the instrument, as well as a different approach to chording.
Both players do a lot with the fingers as well as the pick. Lund especially. The melody and harmony are going on at the same time. And they have some crazy voicings. Ben Monder is another guitarist who comes up with wildass stuff. Makes me think of Allan Holdsworth. Metal Fatigue in particular. 
And all these guys have pedalboards. A small, portable amp and an array of sounds via the pedals. That seems to be de rigueur on the scene. What everybody is doing...
I myself have gone back and forth with using them. Even had a pedalboard of sorts. I do have an array of sounds via a Line 6 Processor, but tend to just use it for recordings.
Guitarists often spend too much time fiddling with their effects in between songs. I played in an R  & B organ trio for some time, following a guitarist who was notorious for this stuff. Brought my effects processor to one gig, and I could tell their patience was already worn thin by my predecessor. Live and learn..
I like a nice, clear tone with reverb and just a touch of delay. It takes about two seconds to make these adjustments, all on the amp, and we're off to the races. 
Wow, it's all been shop talk in here. But that's the news I had for you. Still working away here in the Lab. Inspired and humbled by the people I've been listening to. More to come.
And that should do it for today. Thanks as ever for stopping in and reading. Happy Hump Day to you, however you choose to celebrate it. Later for now.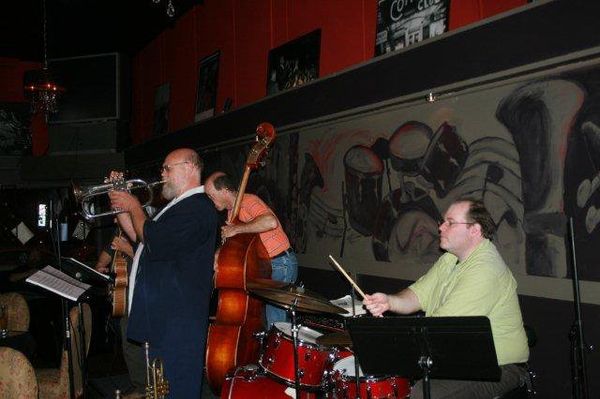 PS today's pic goes back to 2008. Remy's was the club. David Hoffman on trumpet; Steve Jackson on bass; me on guitar; don't remember the drummer's name, but I've worked with him before. 
PPS today's tune is from the new album Big Hair, Big Dreams. Hope you like it.