Good morning! 9:34 and 73 degrees. Can't beat it  Got that first cup of coffee going, ready to take on the world. 
Domestic news. Well, to quote Sylvester Stallone, I feel like a Kentucky Fried Idiot. Problems with my new cell phone. The place I bought it from- the Verizon dealer in Parkway Pointe is useless(don't go there!), so I go instead to the Verizon dealer way the hell on the north side of town. Russell Cellular. Much nicer to deal with. They supplied me with a charger, something the original store neglected to do. 
I was having a lot of trouble answering my phone. Finally had enough of it, and made the 20-minute drive to Russell Cellular. It's on Dirksen Parkway a couple blocks north of Sangamon. There was only one staff person there, and I had two people ahead of me. It was about a 25-minute wait. 
When I finally got to talk to the staff person, it was a much simpler fix than I'd thought. This person had told me over the phone that my problem was a common one, but fixing it involved a couple steps on their part. As it turned out, all I needed to do was swipe the phone icon rather than pressing it. 
Most everything else on this damn new phone is self-explanatory. But this one threw me. I think a few people have given up on trying to call me- even though I call them right back- so now I can at least take your calls. 
Music news. A couple solo guitar things this coming week, one on Wednesday and one on Saturday. My YouTube page is continuing to get new subscribers, and is getting a bit more interactive, with some nice comments from a few folks. I'm sharing something I love doing. All good. 
And that's my news for this installment. Thanks as ever for stopping in and reading. Happy Saturday to you! Lumosity and Wordle and more coffee are all beckoning me. Later for now.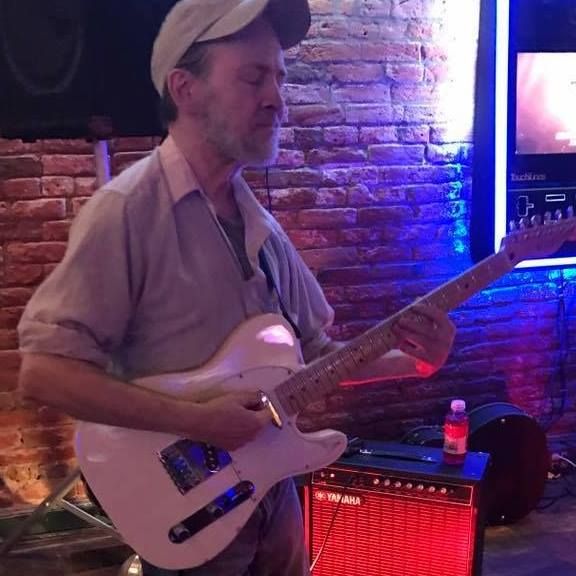 PS today's pic was taken at The Alamo. Playing with Dan Rivero and Wayne Carter. My time with these guys was a nice patch. Enjoyed it. And thanks, Yolanda, for the picture.