Greetings, whoever-reads-this! It's a rainy day here in Paradise Adjacent. Thinking of the old TV show Son of the Beach, which was set in a location called Malibu Adjacent. Right next door to where the real fun is. At least that's what today feels like. In Regular Paradise, I'm sure  they're enjoying a perfect sunny day. 
Music stuff. I'll be playing at Boone's in a couple of weeks, on the 31st. Ben Taylor and Jaro Howse will be joining me. 5:30-7:30. Jazz standards and maybe an original or two. Sometime in the second set, I'll probably have a few folks sitting in. I look forward to seeing you there!
In other music news, still working the YouTube channel, as far as adding new content. I'm up to 253 subscribers at the moment. Always cool to hear from folks who enjoy the music. I did get a comment just today that I'm not sure I understand: This guy's on the Epstein rollodex. 
I'm just going to assume it's a positive remark, and move on from there. Thinking of one of our music professors at Peabody, who'd had his music played someplace in Italy, and overheard one of the musicians saying Tremende. He looked it up in his Italian-English dictionary later, and found out it meant awful! 
Domestic/Old Guy stuff. This year has started off with a bang. Problems with my roof, which is getting replaced this Spring sometime. Some problem cells on top of my head, which have been removed. Getting the stitches out this coming week. Plus a fractured front tooth, which has also been removed. Waiting on that new tooth, along with everything else..
Well good. I got all those woes condensed into a paragraph. Things could certainly be a lot worse, but that's the stuff I've got on my plate at the moment. Thanks as ever for stopping in and wading through all this. Happy rainy Friday to you! For now, ich bin outa here. Until next time..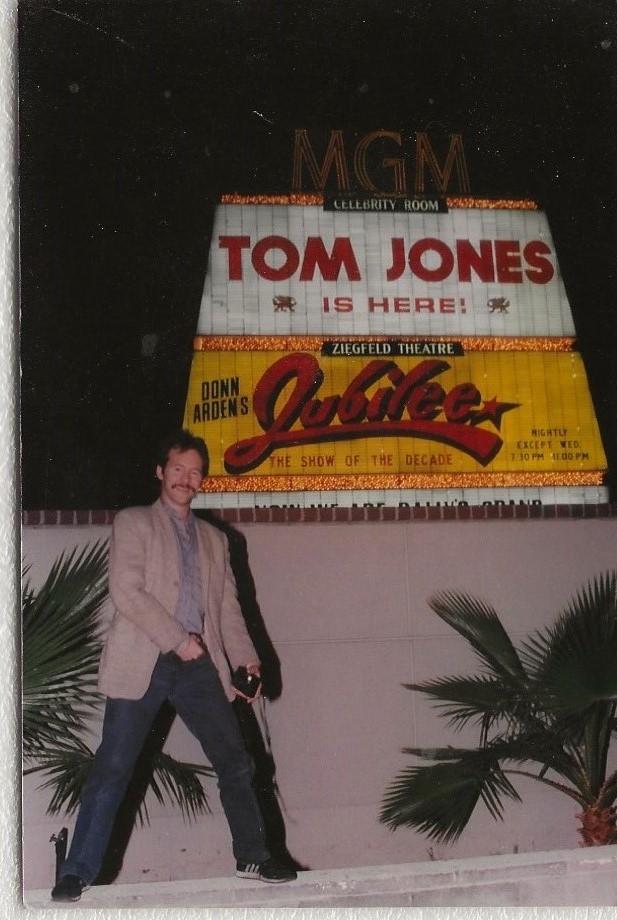 This guy's on the Epstein rolladex"
PS The cover pic was taken in Las Vegas, sometime in 1986. PPS today's tune is called Blues on a Hot Fudge Sunday, and is from my CD Jazz Guitar. Operators are standing by to take your order!